Nominal Composition (Mass %) and Physical Properties
Ni
Cr
Si
Fe
C
B
Hardness
Density (deposit)
Melting Range
Base
10-16
3-5
3-5
0.5
2.0
45-55 HRC
446-595 HV
8.16 g/cm3
0.295 lb/in3
980-1060ºC
1796-1940ºF
Deloro 50
Deloro Alloys are nickel-based with additions of typically Cr, C, B, Fe and Si. They cover a very wide range of hardness, from soft, tough, build-up alloys that are easily machined to exceptionally hard, wear-resistant alloys. The high hardness comes from the very complex microstructure consisting of Ni-solid solution, Ni3B, Cr5B3, Cr2B, CrB hard phases and various Cr carbides. They can be selected for hardnesses of between 15 and 60 HRC and above depending on the application. Si and B make the alloys self fluxing and their low melting point makes powders ideal for spray/fuse or powder and rod/wire welding applications. They maintain their properties up to temperatures of about 315ºC (600ºF) and also offer good oxidation resistance.
Deloro 50 is primarily a hardfacing alloy for welding, spray-fuse, and powder-weld processes but is also available as a casting. It is machineable and produces very hard, dense and corrosion-resistant coatings with superior fusing characteristics. Deloro 50 should be considered where mild impact is possible, as it has lower crack sensitivity than Deloro 60. This is necessarily achieved by loss of some abrasion resistance. Hot hardness maintained to approximately 400ºC (750ºF).
Deloro 50 applications include extruder screw flights, wear rings, bearings, camshafts and diesel engine valve facings. It is also used to spray and fuse glass-forming plungers when high hardness is required.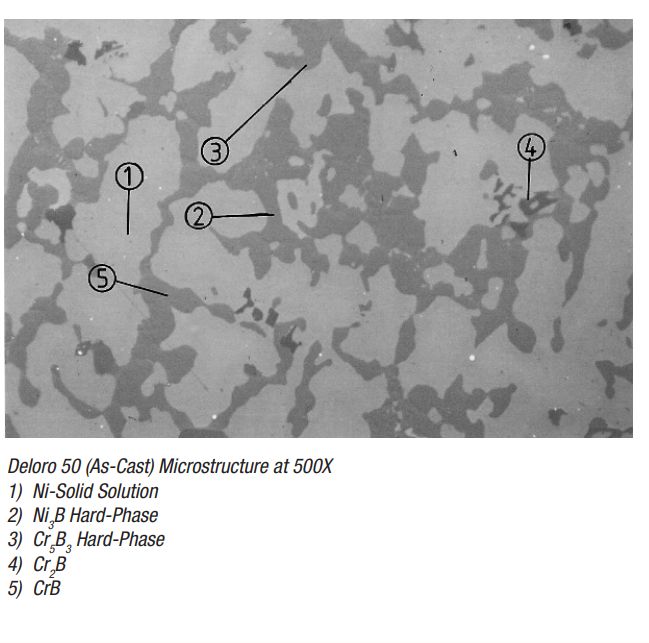 | | |
| --- | --- |
| SPECIFICATIONS | PRODUCT FORMS |
| AWS A5.21 ERNiCr-B | Rod |
| UNS N99645 | Rod, Powder |