Nominal Composition (Mass %) and Physical Properties
Ni
Cr
Fe
Mo
C0
C
Others
Hardness
Density
Melting Range
Base
22
18
9
1.5
0.1
W, Mn, Si,
Nb, Al
90-98 HRB
8.22 g/cm3
0.297 lb/in3
1260-1355ºC
2300-2470ºF
Nistelle X
Nistelle nickel-based alloys are designed primarily for high corrosion resistance. They have excellent high-temperature strength, resistance to oxidizing and/or reducing acids (depending on the grade) and are readily machinable.
Nistelle X is a nickel-chromium-iron-molybdenum alloy having an exceptional combination of oxidation resistance and high-temperature strength. It has outstanding resistance to stress-corrosion cracking in petrochemical applications. Nistelle X retains good ductility after prolonged exposure to high temperatures.
Nistelle X has been used widely in gas turbines for hot gas path and combustion zone components such as transition ducts, combustor cans, flame holders and afterburners. It is also used in industrial furnace applications due to its resistance to oxidizing, reducing, and neutral atmospheres and in chemical industry processes.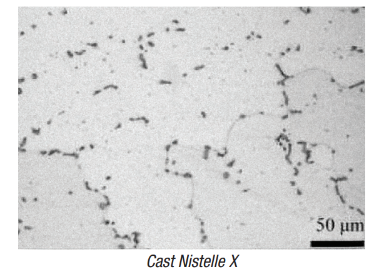 | | |
| --- | --- |
| SPECIFICATION | PRODUCT FORM |
| UNS N06022 | Powder |
| AMS 5390 | Casting |
| ASTM A567 Gr.5 | Casting |