Nominal Composition (Mass %) and Physical Properties
Ni
Cr
Mo
C
Nb+Ta
Fe
Others
Hardness
Density
Melting Range
Base
21.5
9
0.1 max
3.7
5 max
Si, Mn, Al, Ti
25 HRC max
8.42 g/cm3
0.304 lb/in3
1290-1350ºC
2354-2462ºF
Nistelle 625
Nistelle nickel-based alloys are designed primarily for high corrosion resistance. They have excellent high-temperature strength, resistance to oxidizing and/or reducing acids (depending on the grade) and are readily machinable.
Nistelle 625 is a nickel-chromium-molybdenum alloy with an addition of niobium that acts with the molybdenum to stiffen the alloy's matrix, thereby providing high strength without a strengthening heat treatment. The alloy resists a wide range of severely corrosive environments and is especially resistant to pitting and crevice corrosion. It has excellent high-temperature oxidation and corrosion properties. Nistelle 625 is readily manufactured and fabricated by common industrial practices and has excellent weld qualities.
Nistelle 625 has been widely used in a range of high-temperature aerospace, chemical process, and power industry applications. As a low-temperature corrosion-resistant material, it has been used in the chemical industry, marine industry and in pollution-control equipment. It is widely specified for use in seawater and contaminated seawater environments.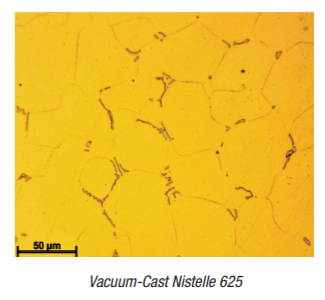 SPECIFICATION
PRODUCT FORM
AWS 5.14
ASTM A494 CW6MC
UNS N26625
Powder, Casting
AMS 5401
Casting (Vacuum)
AMS 5402
Casting (Air Melt)