Nominal Composition (Mass %) and Physical Properties
Ni
Cr
Mo
C
W
Fe
Others
Hardness
Density
Melting Range
Base
22
13
0.01
3
3
Co, Mn, Cu, V
83-98 HRB
8.69 g/cm3
0.314 lb/in3
1355-1400ºC
2471-2552ºF
Nistelle C-22
Nistelle nickel-based alloys are designed primarily for high corrosion resistance. They have excellent high-temperature strength, resistance to oxidizing and/or reducing acids (depending on the grade) and are readily machinable.
Nistelle C-22 is a nickel-chromium-molybdenum-tungsten alloy with the versatility to be used in corrosive environments where both oxidizing and reducing chemicals are present. It was the first low C and Si Ni-Cr-Mo series alloy with higher Cr content. The high chromium content provides good resistance to oxidizing media while the molybdenum and tungsten content gives good resistance to reducing media. It also excels at protecting against pitting, crevice attack and stress-corrosion cracking. The exceptional resistance of Nistelle C-22 to a broad range of corrosive environments, including mixed chemicals, makes it a strong candidate for use in industrial situations where "upset" conditions are likely to occur.
Nistelle C-22 has been used in a variety of corrosive environments in the pulp and paper, petrochemical, chemical, and power generation industries, and in marine service. Nistelle C-22 has been applied to a wide variety of parts, including boiler tube walls, large-diameter shafts and pulp and paper digesters.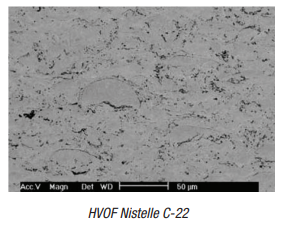 | | |
| --- | --- |
| SPECIFICATION | PRODUCT FORM |
| UNS N06022 | Powders |
| ASTM A494 CX2MW | Casting |
| UNS N26022 | Casting |