Nominal Composition (Mass %) and Physical Properties

Ni
Cr
Si
Fe
C
B
Hardness
Density (deposit)
Melting Range
Base
14-15
2.0-4.5
3-5
0.7
3.2
56-64 HRC
7.8 g/cm3
0.282 lb/in3
906-1081ºC
1663-1978ºF
Deloro 60
Deloro Alloys are nickel-based with additions of typically Cr, C, B, Fe and Si. They cover a very wide range of hardness, from soft, tough, build-up alloys that are easily machined to exceptionally hard, wear-resistant alloys. The high hardness comes from the very complex microstructure consisting of Ni-solid solution, Ni3B, Cr5B3, Cr2B, CrB hard phases and various Cr carbides. They can be selected for hardnesses of between 15 and 60 HRC and above depending on the application. Si and B make the alloys self fluxing and their low melting point makes powders ideal for spray/fuse or powder and rod/wire welding applications. They maintain their properties up to temperatures of about 315ºC (600ºF) and also offer good oxidation resistance.
Deloro 60 is a hard nickel base alloy with excellent wear resistance, high hardness, and corrosion resistance. It can be ground but is not machinable. Deloro 60 coatings have superior fusing characteristics. Fusion of the coating may be achieved by oxy-fuel torch, induction heating or by furnace fusion. Deloro 60 is harder and more wear-resistant than other Deloro grades but gives up impact resistance in exchange.
Deloro 60 applications include hardfacing of wire drawing capstans, pump parts (such as casings, impellers, plungers, sleeves and shafts), mechanical seal faces, feed screws, centrifuge screws, bushings, plastic and glass molding equipment parts and chemical processing and petroleum industry valves.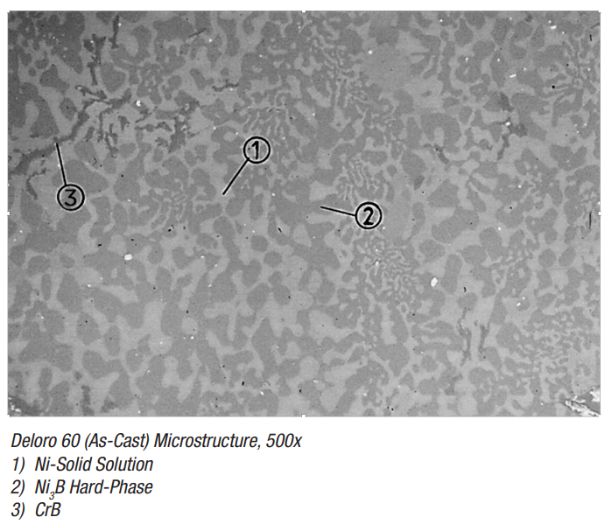 | | |
| --- | --- |
| SPECIFICATIONS | PRODUCT FORMS |
| AWS A5.21 ERNiCr-C | Rod |
| UNS N99646 | Rod, Powder |