Nominal Composition (Mass %) and Physical Properties
Co
Cr
W
C
Ni
Others
Hardness
Density (deposit)
Melting Range
Base
26
7.5
0.5
10.5
Mo, Fe, Si
25-35 HRC*
8.61 g/cm3
0.311 lb/in3
1340-1395ºC
2245-2545ºF
*Hardness dependent on amount of work hardening.
Stellite 31
Stellite cobalt-based alloys consist of complex carbides in an alloy matrix. They are resistant to wear, galling, and corrosion and retain these properties at high temperatures. Their exceptional wear resistance is due mainly to the unique inherent characteristics of the hard carbide phase dispersed in a CoCr alloy matrix. 
Stellite 31 is a cobalt-base, high-temperature superalloy having high tensile and creep properties. It is superior in stress-rupture properties to many alloys commercially available, especially at 1700°F (926°C) and 1800°F (980°C). Stellite 31 is resistant to oxidizing and reducing atmospheres up to 2100°F (1150°C). It has excellent resistance to thermal and mechanical shock. Due to its high-temperature properties, Stelllite 31 is often used in gas turbine engines in areas subject to hot gas erosion, as well as furnace working tools that require a combination of mechanical integrity and hot wear resistance.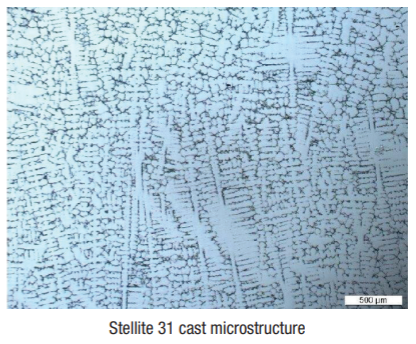 | | |
| --- | --- |
| SPECIFICATION | PRODUCT FORM |
| UNS R30031 | Castings, P/M Components, Powder |
| AMS 5382 | Castings |
| ASTM A732 Gr.31 | Castings |