Nominal Composition (Mass %) and Physical Properties
Co
Cr
Mo
C
Si
Others
Hardness
Density
Melting Range
Base
17.5
28.5
<0.08
3.4
Ni, Fe
54-62 HRC
8.6 g/cm3
0.312 lb/in3
1288-1352ºC
2350-2465ºF
Tribaloy T-800
Tribaloy cobalt-based alloys consist of a hard, intermetallic (Laves) phase dispersed in a softer matrix of eutectic or solid solution. They exhibit outstanding resistance to wear and galling, high corrosion resistance and are particularly suitable where lubrication is a problem. Wear resistance of Tribaloy alloys is highly dependent on the volume percentage of the Laves phase.
Tribaloy T-800 alloy contains hard intermetallic phases of Mo and Si which give the alloy excellent wear properties over a wide temperature range. T-800 was designed to resist high-temperature wear and abrasion and has exceptional oxidation and corrosion resistance due to its high chromium content. T-800 is harder and more resistant to abrasive wear, corrosion, and oxidation than Tribaloy T-400. T-800 exhibits outstanding resistance to galling and is particularly suitable where lubrication is a problem.
Tribaloy T-800 has been used in a wide range of applications, most notably as a wear surface in aircraft engines. Other applications include galvanizing roll bushings, cams, retainer rings, diesel piston rings, mechanical seals, bearing seats, valve trim and pump components.
Areas of application where Tribaloy alloys are used:
Metal-to-metal wear
Surfaces that cannot be lubricated (e.g. high temperatures)
Lubrication starvation
Fluid lubricant is of low viscosity
Both wear and corrosion are factors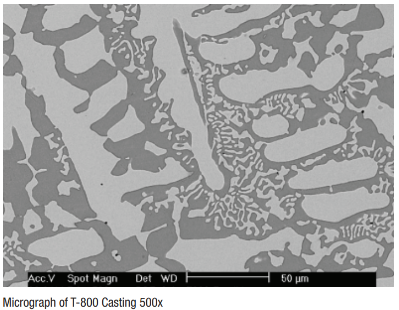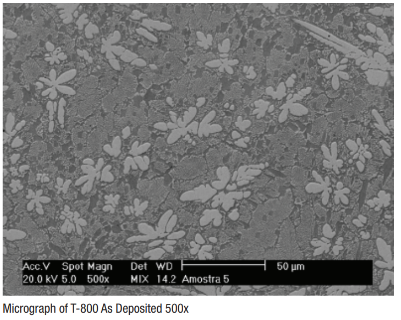 | | |
| --- | --- |
| SPECIFICATION | PRODUCT FORM |
| B50TF193 | Solid Weld Rod |
| B50TF190 | Powder |