Nominal Composition (Mass %) and Physical Properties
Co
Cr
W
C
Others
Hardness
Density
Melting Range
Base
28-32
11-13
2.0-3.0
Ni, Fe, Si, Mn, Mo
50-58 HRC
550-720 HV
8.69 g/cm3
0.314 lb/in3
1248-1290ºC
2278-2355ºF
Stellite 1
Stellite cobalt-based alloys consist of complex carbides in an alloy matrix. They are resistant to wear, galling, and corrosion and retain these properties at high temperatures. Their exceptional wear resistance is due mainly to the unique inherent characteristics of the hard carbide phase dispersed in a CoCr alloy matrix.
Stellite 1 possesses excellent abrasion and corrosion resistance for applications such as pump sleeves, rotary seal rings, wear pads, expeller screws, and bearing sleeves. It retains its hardness at temperatures in excess of 760°C (1400°F). 
Stellite 1 contains a high proportion of hard, wear-resistant primary carbides. These render the alloy well suited to applications involving extreme low-angle erosion and severe abrasion, with some sacrifice in toughness. Compared to other Stellite alloys, it is more crack-sensitive, and care should be taken to minimize the cooling stresses experienced during casting and hardfacing processes. Due to its high hardness and wear resistance, Stellite 1 should only be finished by grinding.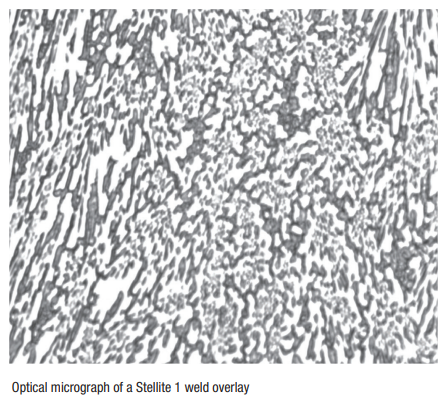 Stellite 1 can be supplied to the following specifications:
| | |
| --- | --- |
| SPECIFICATION | PRODUCT FORM |
| UNS R30001  | Rod, castings, powder for PTA or laser processing  |
| UNS W73031  | Wire |
| UNS W73001  | Electrode |
SPECIFICATION
PRODUCT FORM
AWS A5.21 / 
ASME BPVC IIC SFA 5.21 ERCoCr-C 
Rod
AWS A5.21 /
ASME BPVC IIC SFA 5.21 ERCCoCr-C 
Wire
AWS A5.13 /
ASME BPVC IIC SFA 5.13 ECoCr-C 
Electrode