Nominal Composition (Mass %) and Physical Properties
Co
Cr
W
C
Others
Hardness
Density
Melting Range
Base
20
15
0.1
Ni, Fe, Si, Mo, Mn
20-45 HRC*
8.31 g/cm3
0.300 lb/in3
1329-1410ºC
2425-2573ºF
*Hardness dependent on amount of work hardening.
Stellite 25
Stellite cobalt-based alloys consist of complex carbides in an alloy matrix. They are resistant to wear, galling, and corrosion and retain these properties at high temperatures. Their exceptional wear resistance is due mainly to the unique inherent characteristics of the hard carbide phase dispersed in a CoCr alloy matrix.
Stellite 25 is a tungsten-strengthened cobalt-chromium alloy and is the cast version of the wrought alloy L605, and is also available in hardfacing wire, rod, and powder. This special low-carbon alloy has been found to have exceptional thermal fatigue resistance and is useful for tools to work hot steel. The alloy also resists hot metal-on-metal wear.
Stelllite 25 is often used for metal-working tools where a combination of metal-on-metal wear, thermal fatigue, and hot corrosion resistance are required, such as piercing points, forming tools, extrusion dies and furnace hardware.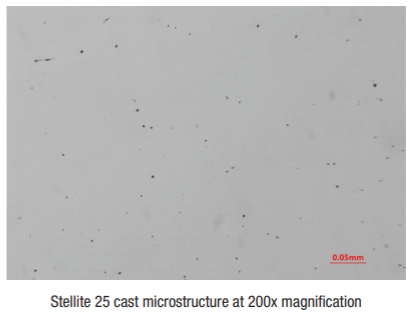 | | |
| --- | --- |
| DESIGNATION | PRODUCT FORM |
| UNS R30605 | Casting |