Nominal Composition (Mass %) and Physical Properties
Ni
Cr
Fe
Mo
Nb+Ta
C
Others
Hardness
Density
Melting Range
Base
19
19
3
5
0.05
Ti, Al

34-44 HRC*
8.22 g/cm3
0.297 lb/in3
1204-1343ºC
2200-2450ºF
*Hardness depends on heat treat condition.
Nistelle 718
Nistelle nickel-based alloys are designed primarily for high corrosion resistance. They have excellent high-temperature strength, resistance to oxidizing and/or reducing acids (depending on the grade) and are readily machinable.
Nistelle 718 is a nickel-chromium-iron vacuum alloy that is typically used for structural parts requiring strength up to 1300°F (704°C) and oxidation resistance up to 1800°F (982°C). This age-hardenable alloy can be readily cast and fabricated into complex parts and its welding characteristics, especially its resistance to postweld cracking, are outstanding. The ease and economy with which Nistelle 718 can be fabricated — combined with excellent tensile, fatigue and creep and rupture strength — have resulted in its use in a wide range of applications.
Nistelle 718 was initially developed for the aerospace industry and is still considered the material of choice for many aircraft engine components. Its excellent strength and corrosion resistance have been recognized by the oil industry and it is now widely used in this field.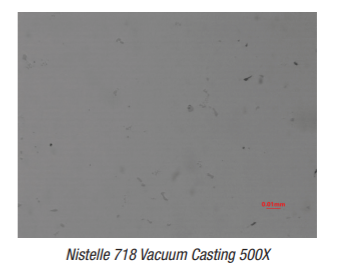 | | |
| --- | --- |
| SPECIFICATION | PRODUCT FORM |
| UNS N07718 | Powder, Casting |
| AMS 5383 | Casting (Vacuum) |