Nominal Composition (Mass %) and Physical Properties
Ni
Cr
Mo
Fe
W
Co
Others
Hardness
Density
Melting Range
Base
16
16
5
4
<2.5
Mn, V, Cu
85-98 HRB
8.89 g/cm3
0.321 lb/in3
1270-1305ºC
2318-2381ºF
Nistelle C-276
Nistelle nickel-based alloys are designed primarily for high corrosion resistance. They have excellent high-temperature strength, resistance to oxidizing and/or reducing acids (depending on the grade) and are readily machinable.
Nistelle C-276 is a nickel-chromium-molybdenum alloy with a long history of performance in corrosive applications. It was the first low C and Si alloy variation of the original Ni-Cr-Mo Nistelle C alloy. It is ductile, easy to weld and possesses exceptional resistance to stress-corrosion cracking in chloride-bearing solutions. Its high chromium and molybdenum content allows it to withstand both oxidizing and non-oxidizing acids and exhibits outstanding resistance to pitting and crevice attack in the presence of chlorides and other halides. It is very resistant to sulfide stress cracking and stress-corrosion cracking in sour oilfield environments.
Nistelle C-276 has been used in sour gas recovery and handling equipment, sulfuric acid environments (heat exchangers, filters and mixers), flue gas desulphurization equipments (scrubbers and ducting), pulp and paper production equipment (digesters and bleaching equipment) and in waste treatment facilities.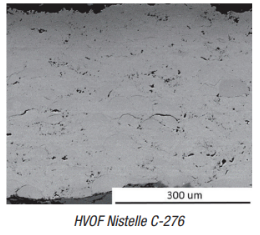 | | |
| --- | --- |
| SPECIFICATION | PRODUCT FORM |
| UNS N10276 | Powder |
| ASTM A494 CW12MW | Casting |
| UNS N30002 | Casting |