Nominal Composition (Mass %) and Physical Properties
Co
Cr
W
C
Others
Hardness
Density
Melting Range
Base
30
14
1
Mn, Fe, Si, Ni
45-49 HRC
8.61 g/cm3
0.311 lb/in3
1340-1395ºC
2245-2545ºF
Stellite 4
Stellite cobalt-based alloys consist of complex carbides in an alloy matrix. They are resistant to wear, galling, and corrosion and retain these properties at high temperatures. Their exceptional wear resistance is due mainly to the unique inherent characteristics of the hard carbide phase dispersed in a CoCr alloy matrix.
Stellite 4 is a cobalt-based alloy having greater wear resistance than Stellite 6 and is used for applications subject to only moderate mechanical shock. It is a machinable casting alloy having extremely good high-temperature strength due to the higher tungsten and carbon contents. It has very good galling resistance at room and elevated temperatures. It exhibits a very low coefficient of friction when rubbed against itself and hard steels.
Stellite 4 is often used for dies, hot pressing, and hot extrusion of copper base and aluminum alloys. It has also been used with success in pumps in corrosive and erosive conditions. Stellite 4 is also used for bushings and sleeves for Zn-Al hot dipping process.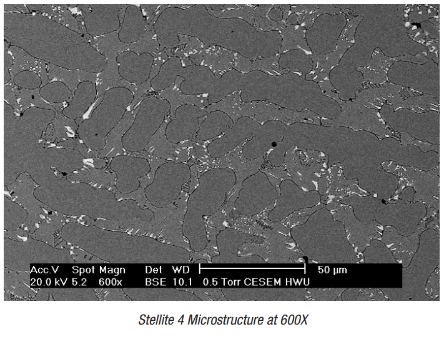 | | |
| --- | --- |
| DESIGNATION | PRODUCT FORM |
| UNS R30404 | Castings and Powder |