Nominal Composition (Mass %) and Physical Properties
Co
Cr
W
C
Others
Hardness
Density
Melting Range
Base
30.5
12.5
2.3
Ni, Fe, Si
48-63 HRC
8.69 g/cm3
0.314 lb/in3
1250-1290ºC
2280-2355ºF
Stellite 3
Stellite cobalt-based alloys consist of complex carbides in an alloy matrix. They are resistant to wear, galling, and corrosion and retain these properties at high temperatures. Their exceptional wear resistance is due mainly to the unique inherent characteristics of the hard carbide phase dispersed in a CoCr alloy matrix.
The high carbon content of Stellite 3 increases the volume fraction of carbides and hence its abrasion and solid particle erosion resistance. The high tungsten content improves its high-temperature properties. However, this results in an alloy that is nearly impossible to hardface crack-free and one that withstands very little impact. It has excellent metal-to-metal wear resistance and resists galling when mated with other Stellite alloys.
Stellite 3 has been used for valve seat inserts, needle holders, steel mill guide rolls, seaming rolls, sleeves, bushings, bearing balls, wear pads, burner nozzles, palm guides, surgical scissor inserts and in many other applications.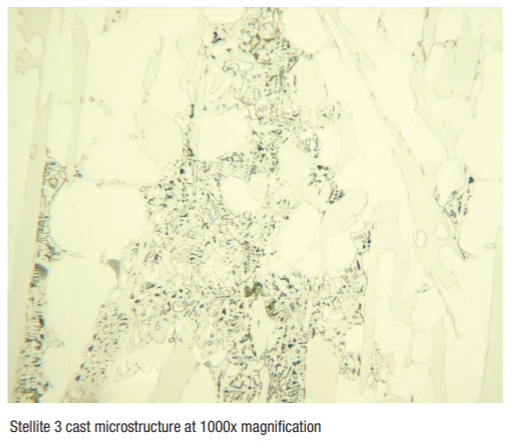 | | |
| --- | --- |
| DESIGNATION | PRODUCT FORM |
| UNS R30001 | Castings |
| UNS R30103 | Powder Metallurgy |